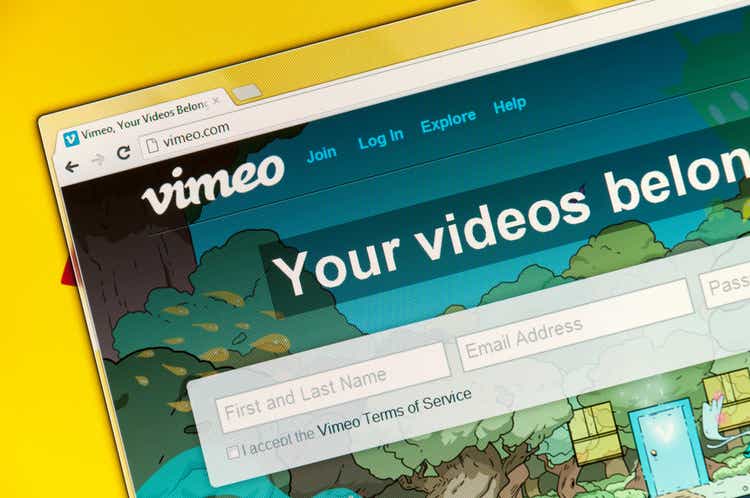 Introduction
In my opinion, Vimeo (NASDAQ:VMEO) can best be described as a rough diamond that needs to be polished by the management team. A lot about this stock therefore depends on the execution and vision of the management team. But if management manages to surprise analysts and investors with positive developments in the coming years, I believe the share will achieve a much higher price.
Let me explain why this is a stock I'm very excited about.
What does Vimeo do?
Vimeo offers companies and private individuals the opportunity to put videos online, without ads, in a safe and controlled environment. The videos can be shared on demand (streaming) or live (webinar-style). Vimeo has very strong technology and has been around since 2004 (18 years) and is therefore one of the internet pioneers, just like YouTube. And when YouTube was acquired by Alphabet (GOOG) in 2006 for $1.65 billion, Vimeo was bought by IAC that same year (for $26 million).
At first, Vimeo wanted to be a kind of YouTube 2.0, but Vimeo will never be YouTube and it shouldn't try to be. Vimeo is ideal for small and large businesses to stay away from the toxic YouTube website (where it's all about clickbait and gaming the algorithm, and big data for Google), but it's ideal for sharing videos with users, colleagues, to give webinars and put them online, and the like. Vimeo is a software-as-a-service business that works with annual subscriptions for private individuals or companies. And recently there has been more focus on large companies and that is going quite well, as we will see later.
A few more interesting statistics/insights: Vimeo has 300 million users spread over 190 countries. These users range from small organizations creating training videos for their employees to large companies holding press conferences and sharing investor updates, to the local entrepreneur who needs videos for his Shopify store, or an Instagram influencer who creates videos for her Instagram account.
The Vimeo brand is known worldwide (and in my opinion that is a strong moat that is not priced into the stock), which means that relatively little has to be spent on advertisements and promotions. Vimeo is used on hundreds of millions of websites worldwide and generates billions of views. Vimeo is also a leader in video technology, with high-resolution videos, great compression, and intelligent streaming algorithms.
Why is the stock -93% below its top?
In 2021, before it went public, Vimeo reached a valuation of $2.75 billion by raising $150 million from private investors. The high valuation was due to the strong growth the company was able to demonstrate during the pandemic.
The numbers looked glowing. The company saw 44% revenue growth in 2020 and subscribers increased 21%. And in 2021, it booked another 38% turnover growth.
When the company finally went public in May 2021, Vimeo took advantage of investor's greed at the time to take the company public at a nice price. The company IPO'd at a valuation of $8.5 billion. Of course, way too high. But naive investors bought it anyway. So it didn't take much to provide a cold shower. Growth stalled post-COVID (growth fell to 10% in 2022 and is slightly negative currently), which is normal after such an abnormally strong period. But that is why investors have dumped the stock en masse.
But the company is now on track to stabilize growth and return to positive numbers. Moreover, everyone who wanted to sell has probably already left the ship and I believe we are at an absolute BOTTOM valuation with a lot of long-term potential. In the industry, they also call this a "derisked" share. (a share where the greatest risks have been priced in and therefore actually has little risk)
Why is Vimeo an interesting investment opportunity?
Vimeo, and I too, believe that video is the easiest, most effective, and most engaging way of communicating to get your ideas across. It's the best way to build a brand and show your personality. Video will therefore only continue to gain in importance. And Vimeo has a front-row seat to further benefit from this.
Vimeo estimates the addressable market at $40 billion (today), which will grow to $83 billion by 2027. Vimeo today has annualized revenues of around $400 million. Just to show how much growth potential is still possible.
I believe that if you invest in companies in which you have an edge, you will do better. That is the case with Vimeo. My Belgian company is a Vimeo customer, and we are very satisfied with the platform and the possibilities, and this is at a very affordable price. If Vimeo had to charge an extra 100 dollars per year tomorrow, we would pay it. So it shows that Vimeo has pricing power and that its product is sticky. Moreover, we have already used several video software-as-a-service tools and Vimeo stands head and shoulders above the rest for us in terms of ease of use, options, and pricing. So I speak here from my own subjective experience, but this is often worth gold when you invest in the stock market.
2021 and 2022 were very bad years for Vimeo shareholders. The share lost -90% of its value.
But recently, the shares have traded between $3 and $5 throughout 2023 (sideways trend channel). This is positive for investors who are just now discovering the stock. Vimeo has already had 3 years to bottom out and consolidate.
Currently, I don't see the stock falling any time soon because the valuation is already so low compared to the fundamentals, and therefore I think the current price is ideal for accumulating new positions by investors who believe in the undervaluation of the company.
What makes me enthusiastic about Vimeo is its SaaS (Software as a Service) business model combined with a particularly attractive valuation. The company has very high gross profit margins of over 75% and can therefore become very profitable very quickly if it can grow sales some more and keep costs under control. And that is exactly what happened in the latest quarter, which I will discuss soon.
Moreover, you currently only pay $592 million for the company, while they have $291 million in cash on the balance sheet and no debts. This means that you actually only pay $300 million for the company itself. That is less than 1x turnover. I think that's ridiculously low for a SaaS business with huge margins and a lot of potential.
Latest figures
In Q3 2023, Vimeo surprised positively. The company reported positive bookings growth (+3.8%) while revenue stayed pretty stable (-1.6%).
What was more notable was that in 2023, Vimeo improved its margins drastically in Q3 by reducing costs. The company reduced its NON-GAAP operating expenses by 11% and headcount was down 12%. Gross margin went from 75% to 80%.
Thanks to these initiatives, its net income margin went from negative 20% in Q3 2022 to 8% in Q3 2023. And EBITDA margin went from 2% to almost 13%. A very positive evolution.
What I like about this, is that Vimeo is cutting fat from the business and focusing on doing more with less. Plus the company is not forgetting about investing in the business and improving its product. The company still has a massive opportunity to further improve its product and make it more sticky.
Also positive for investors, is that Vimeo is cutting stock-based compensation. The company reduced SBC with 63% year-over-year.
And while the Self-Serve & Add-Ons business is still under pressure (-3.7% year-over-year), Vimeo is surprisingly moving very strongly into the Enterprise market. And these are contracts of much higher value. It's basically a market that Vimeo ignored for many years but started to take seriously recently. And this can be seen in the latest figures.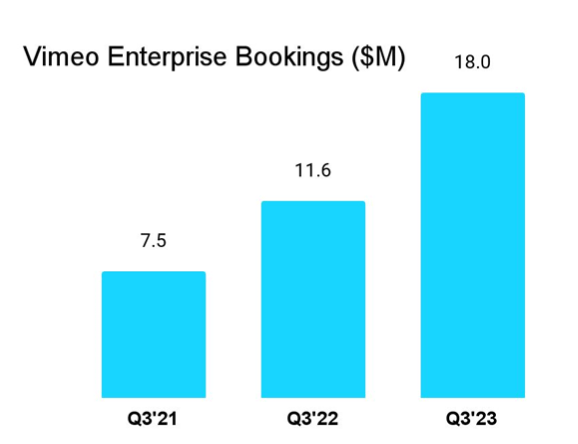 During Q3 2023, Vimeo Enterprise saw bookings growth of 55%. Q3 Net Revenue Retention was over 100%. And the number of subscribers grew 46% to 3000. ARPU was also up 5% year-over-year. And management has made clear that they will continue to focus on penetrating the Enterprise market. Most important right now is to land new contracts, and then expand ARPU.
New exciting CEO: Adam Gross
Vimeo recently decided to appoint a new interim CEO (while they search for a new permanent CEO).
This new interim CEO is Adam Gross. And I'm excited about this guy. Adam Gross is a SaaS (software as a service) veteran who has been on the Board of Directors at Vimeo since 2021. Previously, he served in leadership roles at Salesforce (CRM) and Dropbox (DBX). He is also the founder of 2 companies that were later acquired. His experience at Heroku (a Salesforce subsidiary) is particularly interesting. There he led the transition from self-serve (customers who take out small subscriptions themselves) to the enterprise industry (selling licenses to large companies for tens to hundreds of millions in one go). Enterprise licensing is where the big money is made, so I think it's great to have someone in charge now who will focus on that.
Vimeo's enterprise business is already growing the fastest, as we just saw. This branch grew by +55% in the last quarter. New clients such as Shutterstock, Alarm.com, SHEIN, and Oxford University were acquired. An impressive list.
Outlook
In the above table, I've made some assumptions about Vimeo.
Other revenue stays stable at 76 million dollars per year
Vimeo Enterprise revenue grows 20% per year in 2024, 2025, 2026
Self-Serve & Add-Ons also sees stable revenue at around 288 million dollars per year
As you can see, these are pretty conservative assumptions. I suspect Vimeo might grow Vimeo Enterprise revenue by more than 20% per year, and I also believe that Self-Serve might start to grow again by the end of this year. However, Other revenue will probably continue to decline as management focuses more on Enterprise and Self-Serve. So all in all these assumptions are reasonable. Let's just run with it.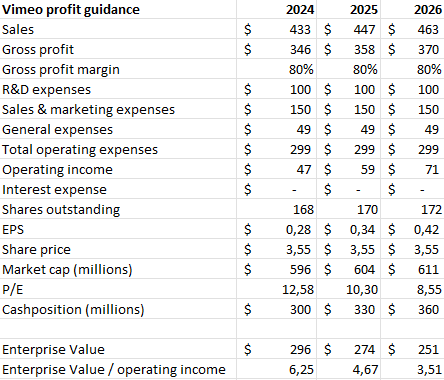 I used the sales assumptions to make this little overview of what we can expect from a profit and valuation standpoint.
I have assumed the following for the financial side:
80% gross profit margin
100 million dollar R&D expenses per year
150 million dollar Sales & Marketing expenses per year
and 49 million dollar General Expenses per year
So total operating expenses of around 299 million dollars per year
Then I've assumed the following for stock-based compensation:
2 million shares dilution per year, this might be conservative, but since management is focused on reducing SBC, we'll keep this
And then I've assumed that the cash position would go up around 30 million in 2025 and 2026. This seems realistic and fairly conservative, based upon the 17 million of free cash flow in Q3 2023.
Based upon these calculations, Vimeo is quoting against a future 2026 P/E ratio of 8.55x. And the Enterprise Value/Operating Income multiple would be at 3.51x.
These are pretty attractive numbers from a valuation perspective with very conservative assumptions. Of course, these assumptions might be wrong and things could get much worse or better. And then we have to adjust where necessary. But I still believe these are pretty reasonable assumptions all in all.
Conclusion
Vimeo, the online video platform with more than 300 million users, can currently be purchased for just $300 million. So you pay 1 dollar per user or you pay less than 1x the annual turnover, and this is for a company with 80% gross profit margins and an interesting growth profile within the enterprise market.
In my opinion, this is too cheap a situation that will not last under CEO Adam Gross. At the beginning of this year, Munson Gillian, the CFO of Vimeo, bought shares for $75,000 (average price of $3.77). And I think she's right: Vimeo's current valuation is so low that investors here have almost only upside potential. If Adam Gross can further tap into the enterprise market, Vimeo might be off to higher valuations.
If Vimeo can grow the Self-Serve and Enterprise business, while keeping costs under control, then Vimeo is a no-brainer for me. Following my pretty basic assumptions, you're potentially paying 3.5x 2026 EV/operating earnings for Vimeo at today's prices.
Over the next 10 years, I think Vimeo is definitely worth the $300 million valuation. It's just a matter of bringing out the value in the company. And with the new interim CEO, I believe this is possible.
Disclaimer: Vimeo is not a riskless investment. This is a small-cap company trying to penetrate the enterprise market, where there is a lot of competition. Meanwhile, the company struggles to grow other revenue sources. However, Vimeo also has positive points, like a high cash position, an attractive valuation, and improving financial picture the last couple of quarters. So the company has higher than average risk as the company is struggling to grow revenue, but there are also positives to the story. Never exaggerate with the weight of this stock in your total portfolio. Always do your own research. And never invest all of your money in 1 stock.