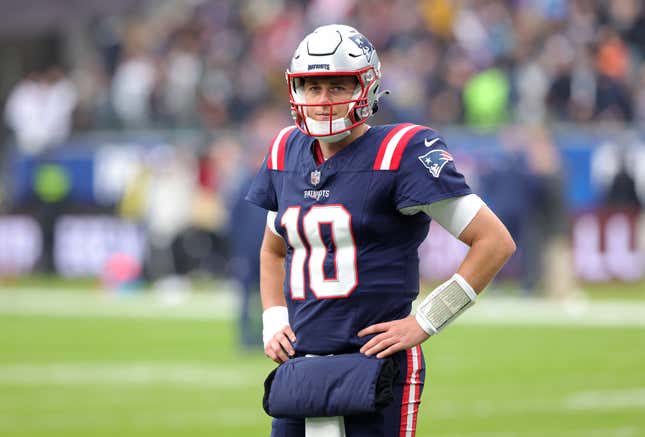 Now that it's clear Mac Jones isn't the guy in New England, the only thing left to do is wait for the inevitable hit pieces. A tradition in Boston along the lines of Dropkick Murphys between bouts of vomiting, an outlet for Bean Town's disgraced professional athletes, is well known. And the bigger the disappointment, the juicier the details.
Which NFL QB will be the first? | Agree to disagree
It's a running joke on the Bill Simmons Podcast that all you have to do is give local Boston media members the go and they'll empty a treasure trove of dirt on any athlete. Seth Wickersham had such a backlog of Patriots gossip that he turned it into a book — and Tom Brady didn't even leave "embarrassed." (At least not in the eyes of an objective third party; I can't speak to Sully and Mick's personal grievances.)
So imagine how compelling the Jones piece will be? I can't wait to read that he fat-shamed not only his offensive linemen, but also Matt Patricia. Fittingly, Mac Jones berated new offensive coordinator Bill O'Brien to the point of tears as Bill Belichick cradled him and yelled, "It's not his fault!"
The heir to Brady's throne has been so deplorable that the leaks have already begun.
The Boston Herald's Andrew Callahan reports that "at least 80 percent of the Patriots' locker room is out on Jones." Another source had that number at a "vast majority," matching that 80 percent number.
It makes you wonder who the other 20 percent is, because .200 is also Jones' winning percentage this season. After 10 games, he is 2-8 with 10 touchdowns, 10 interceptions, and probably as many sacks. Belichick knew whether to go with Jones or Bailey Zappe under center, but chances are they'll take turns picking the opposition until Robert Kraft threatens to castrate Belichick's oldest son.
I just want to remind people in the New England area that two training camps ago Jones received a standing ovation for walking on the practice field.