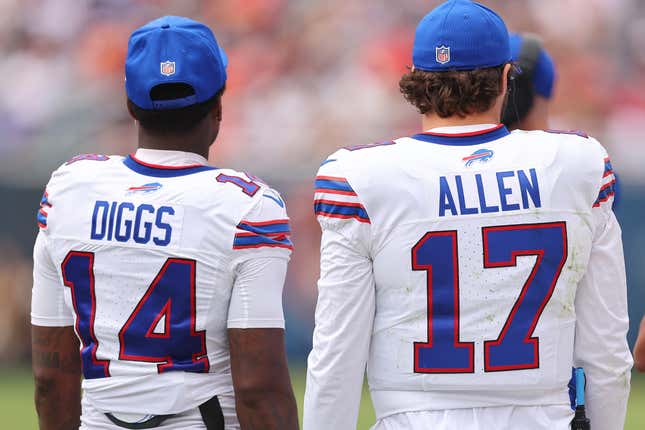 The relationship between Stefon Diggs and the Buffalo Bills has apparently been shaky for some time. Monday night's performance at home against the Denver Broncos did little to make Diggs want to stay past this season. Diggs' brother Trevon (Dallas Cowboys cornerback) couldn't contain his frustration during the game and sent out several tweets during Monday Night Football that completely threw Josh Allen under the bus.
Who will be the NFL MVP? | Agree to disagree
"Let's not forget, he didn't start leaving until brother got there."
Stefon was basically a non-factor in Monday night's game, catching three passes for 34 yards on five targets. Late in the game, Allen rarely even looked his way. One can blame Allen for not getting his best receiving option the ball, or you can look across the field at the guy guarding him. Denver's All-Pro cornerback Patrick Surtain II had Diggs in handcuffs most of the night.
Some take the approach of pointing the finger at the head coach, who is more of a defensive guy.
Sean McDermott has already taken one step in that direction rectify the breach, as former offensive coordinator Ken Dorsey was let go Monday morning. While that may be a start, it doesn't change the seemingly broken relationship between Diggs and Allen. When a receiver and quarterback can't get on the same page down the field, they are destined to struggle on it.
Trevon's tweets from home won't help resolve any tension in Buffalo. There were rumors a while back that Stephen A. Smith talked about on First Take in which he claimed Stefon wanted out of Buffalo. That's what his sources relayed, and the longer it goes, the more it seems Smith's sources were onto something.
Another factor to this comparison is how Allen and the offense, overall, has declined since Brian Daboll left for the Giants' head coaching gig. That couldn't be more evident in the Bills parting ways with Dorsey midway through season two. Someone needs to get in a room and sort things out between Diggs, Allen and Coach McDermott.
Running back Latavius ​​Murry called a players only event last week, but this team needs more than that. McDermott needs to get Allen and Diggs back on the same page, or it's time to let Diggs go his own way.