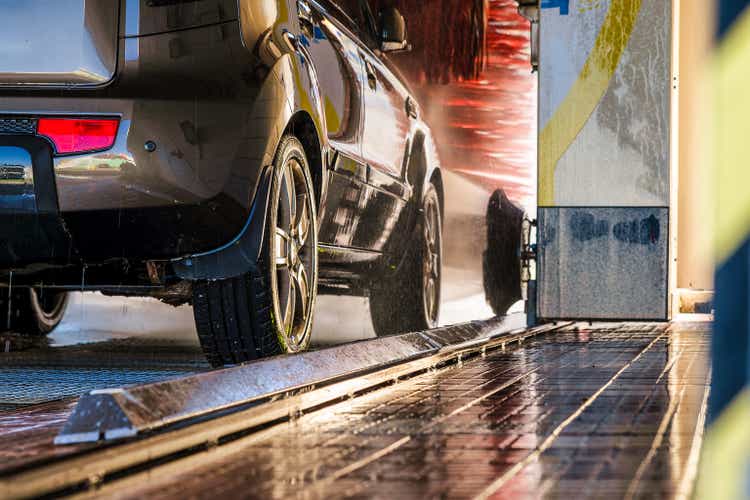 Investment Thesis
Mister Car Wash (NYSE:MCW), America's largest car wash brand, went public in the heydays of 2021 at $15.00 a share, opening 26% above that price and earning a hefty valuation of $5.6 billion. Many investors considered this stock a growth play, however it lost more than 50% of its value since then and is trading at ~$7.00 a share. MCW growth story has been heavily propelled by an acquisitions spree and intensive capital expenditures, which in turn led to a fragile balance sheet, characterized by high proportions of intangible assets and massive debt load. Investors should recalibrate and focus on the value story of MCW; fundamentals and free cash flows. By doing so, there may be much more downside risk, with my DCF model implying for a further 50% contraction from current levels. I rate MCW as a "Sell".
Mister Car Wash Business Model
For those of you who are not familiar with this small-cap company, Mister Car Wash operations run through two different formats; "Express Exterior" locations and "Interior Cleaning" locations, with the former format being the dominant one (~75% of total locations). As the name suggests, the exterior locations offer only exterior cleaning through self-drive conveyorized washers, while the interior locations, in addition to the exterior wash, also offer an interior cleaning of the car by MCW team members.
MCW also successfully managed to build over its 27 years of history an impressive subscription club, called "Unlimited Wash Club", or "UWC". As part of this club, MCW offers its members a monthly subscription program in which the members can come by and clean their cars as many times as they want, all for a flat monthly fee starting at $19.99 (for the "base" program) up to $49.99 (for the "platinum full serve" program). Club members can enjoy some additional perks such as member-only lanes and contactless washes via RFID technology. The UWC program has worked tremendously well for MCW over the years, and as of September 2023, it includes more than 2M members, up from ~900K members in September 2019 and only fraction of that, ~36K members, back in 2010.
Growth Driven by Intensive M&A and CAPEX
MCW key strategy, probably going back longer than public filings show, was to grow through two key (and a bit commingled) propellers: acquisitions and capital expenditures.
As MCW financial statements show, the M&A activities highly contributed to its location growth; from 65 locations in 2010 to 462 locations in September 2023. Once MCW acquires a location, it immediately rebrands it and invests a lot in the physical assets and human capital to fully integrate it into its chain. The car wash industry is a highly fragmented one, and MCW became the number one player by buying other car wash chains on a recurring basis. Notice I referred to the acquisitions strategy as "highly contributing" to the location growth, and not entirely, because MCW kickstarted in 2018 another, relatively new project, it calls "Greenfield Growth", which is basically developing new locations from scratch.
The aforementioned strategy has had a major effect on MCW top line; in 2019, the company generated from its 322 locations close to $630 million in revenues. Moving forward to 2022, MCW generated from its 436 locations close to $876 million in revenues. The correlation is quite high and is not a coincidence, with 35% growth in locations translated into an impressive 39% growth in revenues.
The flip side of this impressive growth can be found on MCW cash flow statement, which leads us to the first propeller of growth for the car wash company; capital expenditures. MCW heavily invests in the physical assets of new sites to integrate them into the "Mister" brand. In 2019, CAPEX represented only 12% of MCW revenues, while in 2022, that figure dramatically rose to 22%, and is expected to reach a staggering figure of 35% at the end of 2023 (on an annual basis), based on the latest outlook MCW provided to the market. The main conclusion here is that CAPEX grows at much faster pace than revenues. In other words, current trend indicates that it is becoming much more challenging for MCW to support its growth out of organic cash flow generation.
The second propeller of growth for MCW is its M&A activities. The company has been known as a "serial acquirer", with its prospectus indicating that it has a "proven track record of location growth through acquisitions, successfully integrating over 100 acquisitions during its history".
Going all the way back to 2019 (earliest financial information available) up until the end of 2022, the company spent almost $740 million on its acquisitions. During that period, revenues have grown in a CAGR of 12%. To further illustrate the correlation between M&A activities and revenue growth, we can look at two examples. The first one is 2020, which was negatively affected by Covid, hence acquisition costs totaled at only $33 million. Only 20 locations were added, and revenues grew by only 0.35% on a YoY basis (that's excluding Q2 both in 2020 and 2019, when MCW suspended its operations due to Covid). On the other hand, in 2021 acquisition costs totaled $525 million. 54 locations were added, and revenue grew by 18% on a YoY basis (again, excluding Q2 both in 2021 and 2020, to offset the Covid effect). On a TTM basis, acquisition costs totaled $73 million, 42 locations were added, and revenue grew by 7%. The key take here is that to maintain growth, the company will have to continue and expand its footprint by acquiring more car wash locations.
The key question one should ask is how sustainable this strategy is. To answer that question, we should check the relation between MCW investments and the organic cash flow it generates. Between 2019 and 2022 CAPEX totaled $450 million and acquisitions $740 million, so we are talking about a total investment of $1.19 billion in that timeframe, while cash flow from operations totaled at only $574 million, lagging the investment figure by more than two times. Even if we subtract MCW disposals (which are mainly related to its sale-leaseback transactions), totaled at $306 million, we get a "net" investment of $884 million which still implies a 1.5x lag versus cash flow from operations.
| | |
| --- | --- |
| Mister Car Wash M&A and CAPEX Activities vs. CFFO (2019-2022) | $M |
| + Acquisitions | 739.5 |
| + Capex | 450.7 |
| Gross Investments | 1,190.2 |
| CFFO | 574.5 |
| Gross Investments / CFFO | 2.1x |
| | |
| – Disposals | (306.4) |
| Net Investments | 883.8 |
| CFFO | 574.5 |
| Net Investments / CFFO | 1.5x |
The main conclusion here is that due to the lag between gross and net investments to the generation of organic cash flow, MCW will have to continue and fund future growth through a healthy injection of exogenic capital, i.e. debt or equity. This is what MCW did in recent years, taking mainly the debt route, with the most recent example in 2021, when the company assumed extra $290 million in debt to finance the mega acquisition of Clean Streak Ventures for $390 million. I don't see any short-term escape from this merry-go-round, with the direct result being a fragile balance sheet, making that growth strategy even more unsustainable in the long term.
Fragile Balance Sheet
According to MCW latest financial statements from September 30th, 2023, the company's asset side stands at $2.9 billion. The biggest items that immediately stand out are goodwill and other intangible assets ($1.2 billion, or 44% of the balance sheet). The goodwill on its own stands at more than $1.1 billion, which was an immediate red flag for me.
For those of you who are not familiar with accounting standards, goodwill as an asset on the balance sheet arises from M&A activities. To use accounting language, goodwill is recorded when the acquirer pays for the target firm more than the fair value of the net identifiable tangible and intangible assets acquired. It's a bit of funky way to say that goodwill arises when the acquirer pays for the target firm more than its fair value of assets and liabilities. The acquirer from his point of view will attribute that overpayment to synergies, cost savings and other benefits that arise from the deal.
As you can understand, goodwill is a very elusive item, but it's very common to see that in M&A deals. However, goodwill on large scales out of the total balance sheet may sometimes act like a "booby trap", because if in retrospect the M&A deal doesn't generate the desired outcomes (those synergies, cost-savings etc.), financial impairments will be made to the income statement and balance sheet. Moreover, once goodwill is impaired, accounting standards will not allow any recovery.
To dig deeper, I decided to analyze MCW acquisitions history (using its financial statements since 2019), and as you can see, the average goodwill recorded has been almost 60% of the purchase price allocation ("PPA"). I find this figure very high for acquisitions of conveyorized car wash locations which should mainly comprise PP&E. You may claim that MCW might have paid for the brand names of the acquired car wash locations, but the truth is that MCW actually rebrands all of its acquisitions to its own "Mister" brand.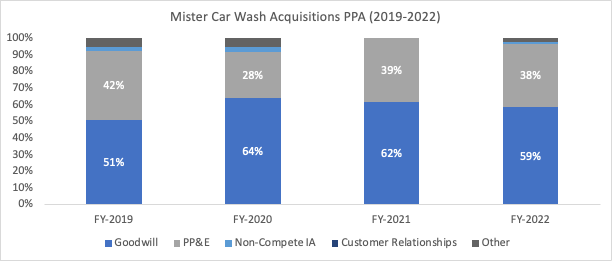 ** In 2021, liabilities were assumed, making the assets side more than 100% of the PPA. The liabilities offset that.
To give you more context, between 2019 and 2022 the company has paid almost $740 million for its acquisitions, out of which almost $445 million were attributed to goodwill, paving the way for a 52% increase in the goodwill item on MCW balance sheet during that period.
Moving to the liabilities side, which stands at $2.0 billion. There are two key items here that investors should pay a very close attention to. The first one is the "traditional" debt, a first-lien term loan which as of September 30th, 2023, stands at $901 million. This massive debt is due in one bullet payment in May 2026 and carries a floating interest rate, currently at 8.42%.
Overall, and assuming interest rates will at least not decline in the short term, along with inability to early repay part of the debt due to a $62 cash position, MCW will have to continue and incur $76 million in interest expenses per annum. More concerning, MCW interest expenses are growing at a faster pace than its revenues, weighing on the company's bottom line. However, that trend has settled a bit in recent quarters, but we should continue and monitor it.
The second key liability on MCW balance sheet is its operating lease liability, which as of September 30th, 2023, stands at $849 million. MCW is very active in the lease domain, as its strategy is not to own the car wash locations but to lease them. Approx. 85-90% of the company's 462 locations are leased, creating a massive contractual commitment to landlords. For those of you who are not accounting wizards, bear in mind that the contractual commitment of $849 million is the present value of the future lease payments. Put simply, MCW nominal contractual commitment is for $1.4 billion, with a contractual lease payment of ~$100 million per annum in the foreseeable future, adding more pressure on the company's cash flow. Assuming the company aims to continue and expand its footprint, that liability is expected to only increase over time.
Combining both pieces of the debt puzzle, we get to $1.75 billion in debt, but that's in present value terms. In nominal value terms, total debt stands at $2.35 billion, with the $901 term loan maturing in 2026. MCW doesn't have any option but to refinance that loan in what may turn out to be a difficult interest rate environment, adding more challenges to its growth strategy.
Moving to the last piece of the balance sheet puzzle; the equity. The current equity balance of MCW is $893 million, a major improvement since the pre-IPO equity when it was a minuscule equity of $42 million (mainly due MCW decision to pay a special dividend at the end of 2019, before it was a public company). The concern arises when you look at the tangible equity of the company. Tangible equity is basically the common equity minus intangible assets such as goodwill and other intangible assets, which in MCW case are mainly trademarks ($107 million). The tangible equity focuses more on the "hard" and liquid assets of MCW, hence its importance. That tangible equity is currently negative at $362 million and has been negative in every public financial statement of the company.
To better illustrate the importance of that point, recall a basic principle in corporate finance asserts that equity holders possess a residual claim on the company's assets. MCW balance sheet includes $2.9 billion of assets versus $2.0 billion of liabilities and ~$900 million of equity. Assuming, just for the sake of this exercise, that MCW will have to liquidate its assets tomorrow for some reason. Debt holders and other payables will have a senior claim on the assets and will liquidate the hard assets first (receivables, PP&E, inventory etc.). Let's assume they will enjoy a full recovery, 100 cents on the dollar. Equity holders will be left with an equity book value of ~$900, but what are the assets they will be left to monetize? – The intangible assets, and mainly the goodwill. Now good luck finding a buyer for those assets. There is a high probability that in such turn of events, the equity holders will be completely wiped out. This exercise may sound extreme, but take into account that MCW faces a $901 million debt maturity in 2026. The base case should assume a refinance, but if for some reason that refinance fails, then the aforementioned exercise will be very relevant to equity holders.
In case MCW decides to support its future growth with another equity issuance, it will have to consider that a large equity raise (>$100 million) while market cap is only ~$2 billion will result in a severe dilution. It is fair to assume that private equity firm Leonard Green & Partners who owns ~70% of the company stock will object such a move.
DCF Valuation
To evaluate the share price of MCW, I decided to use the discounted cash flow model, which generates the intrinsic value of the firm and its stock. An intrinsic value of a firm is the present value of all projected future cash flows, discounted at the appropriate weighted average cost of capital (the "WACC").
The WACC I used for my valuation is 9.0%, with a terminal growth rate of 2.0%, in line with a solid long-term growth of global economy. The tax rate I used was a flat 25%. I also factored in the acquisitions and disposals of the company and not just the CAPEX, as they are an integral part of the business model. Based on my discounted cash flow model and current share price of $7.25 (as of November 15, 2023), the implied downside potential for MCW stock is 50%.
The Verdict
Current valuation, reflected in a 26x P/E ratio, is mainly propelled by MCW growth prospects, which can only be continuously driven by assuming more debt and/or raising equity. Both options seem quite limited considering the already high level of debt and the small market cap of the company. As a result, assuming past growth is not sustainable, the investment thesis will need to shift from a growth to value, focusing on fundamentals and free cash flows. Using the intrinsic valuation approach, I conclude that MCW is set for a market cap contraction, implying a 50% downside from current valuation.
As can be seen in the disclosure below, I'm not shorting the stock and have no plans to do so. A legitimate question would be "Why?". There is a simple answer to that, using John Maynard Keynes's words: markets can stay irrational longer than one can stay solvent. As I see it, there are just better small-cap investments out there.