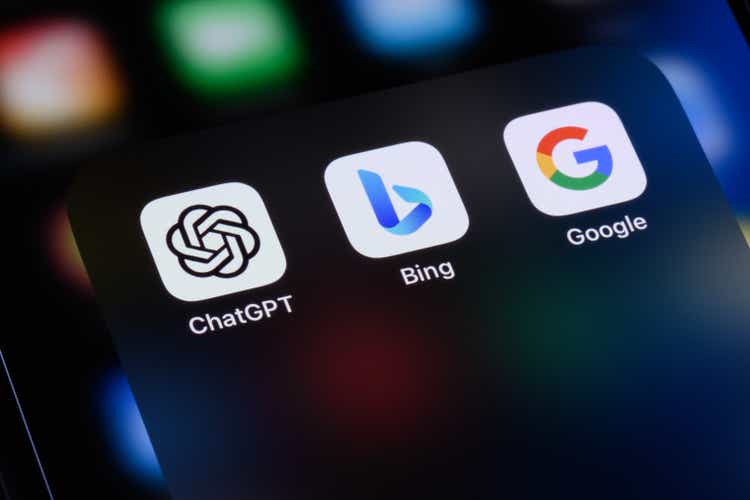 Investment Thesis:
Microsoft's (NASDAQ:MSFT) strategic maneuvers into the AI space are more than helping Open AI build better chatbots so they can sell Office 365 Co-Pilot licenses. As they bolster their partnership with OpenAI, their deepening alliance is also an infrastructure transformation, with Microsoft investing heavily in nuclear energy (through a Sam Altman portfolio company) to sustain its expansive data centers creating a uniquely competitive cloud division that has the promise to offer a unique set of services.
The implications of such investments stretch beyond immediate financial returns; they signify a commitment to sustainable and reliable energy sources that can support the intensive computational demands of future AI innovations. The opportunity to run the future of AI-enabled cloud computing on one of the lowest-cost energy sources known is immense. Microsoft could literally have better computing services for a lower cost. If you beat your competitors in quality and on cost it's a lot easier to completely dominate the market. With a fortress balance sheet in hand, Microsoft is one of the rare companies that could pull it all off too. As investors assess this opportunity, I think it's fair to start by assessing its impact on Microsoft's OpenAI investment. This gives investors the opportunity to attach and quantify the impacts on just one part of Microsoft's portfolio. The valuation potential from just this alone I find to be powerful enough to warrant a buy.
Background:
Microsoft's announcement earlier this year of the third phase in its partnership with OpenAI comes with a multiyear, multibillion-dollar investment, emphasizing their shared ambition to advance AI research and democratize AI technologies. This phase includes scaling up supercomputing systems and deploying AI models for both consumer and enterprise applications, consolidating Azure's position as the exclusive cloud provider for OpenAI's workloads​​. While many investors are already well aware of this investment from Microsoft, I believe it's the level of synergy here that is not fully priced in.
In line with this, Microsoft Chairman and CEO Satya Nadella highlighted the importance of building superior systems to empower developers to create the best AI models at OpenAI's DevDay Conference on November 6th, signaling Microsoft's dedication to providing robust infrastructure for AI development. The Azure OpenAI Service, which is now generally available, underscores this commitment by offering businesses access to advanced AI models, including GPT-4, GPT-3.5, Codex, and DALL-E2, showcasing the integration of Microsoft's enterprise-grade capabilities with OpenAI's cutting-edge AI technologies. The event gives OpenAI customers more ways to deploy AI tools into their workplace even if they cannot code (there are no code solutions). This gives them a huge edge in the burgeoning AI market allowing far more people to join the OpenAI ecosystem.
Why OpenAI is Such a Big Deal:
OpenAI has made significant inroads in AI with the popularity of ChatGPT and DALL-E, creating a rich environment for users and developers. The potential to independently commercialize the resulting AI technologies presents lucrative opportunities for Microsoft, ensuring its stake in OpenAI is not just strategic but potentially transformational for its valuation.
With more than 100 million weekly users engaged with ChatGPT and DALL-E, OpenAI's platforms are rapidly becoming the new standard in AI accessibility and application. The ability for users and developers to independently commercialize the resulting AI technologies presents substantial opportunities for Microsoft​​. Their growth has been immense, a testament to the broad versatility of their tools in multiple environments/applications. This has been one of the fastest-growing platforms to have been developed on the internet.
OpenAI represents Microsoft's play at capturing the exponential growth we are seeing with AI. AI looks to add $15.7 trillion to the global economy in just 6&½ years (2030). With OpenAI's models seen as industry leaders, they are arguably one of the best-positioned firms to capture this. They need a strong cloud platform to enable this deployment, however, which is where Azure comes in.
Azure AI's Market Penetration and Growth:
Azure AI is crucial for Microsoft, with more than 20,000 active paying customers and usage by over 85% of the Fortune 100 companies. This widespread adoption speaks to the quality and capability of Azure's AI services, which are used across various products including Microsoft 365, Xbox, HoloLens, and Bing​​.
While Azure is currently a cloud market leader, at 23%, they trail AWS at 35%. Amazon's cloud has been the bedrock of enterprise cloud. But integrating AI from OpenAI will be a big change. This starts with the more compatible system OpenAI just released with GPTs last week, and the Office 365 Co-Pilot program launched on November 1st.
Azure with OpenAI will be a game changer. OpenAI's capabilities are best in class and its platform will cement users into using their product for enterprise capabilities. Recent studies (including one done by Microsoft) are beginning to show the high ROI that investing in AI can have for enterprise clients. For Microsoft, this will be a big drive to the Azure cloud. If clients want to make the most of Azure, Microsoft Office, and (arguably) the best AI models on the planet (OpenAI's GPT models), they're best set to use the Azure cloud to run their business. This is a massive competitive advantage for Microsoft.
Microsoft's Nuclear Energy Strategy:
While Azure with OpenAI is key, cost is going to become a problem. Sam Altman is reportedly looking to ask Microsoft for more funding to run OpenAI as the costs to train AI models have ballooned. A big part of this cost is the electricity. Power represents 60-70% of the costs to run a data center. If Microsoft can lower these costs (both for OpenAI and their customers) they will pick up a massive pricing advantage that they can deliver to their end customers.
I believe (based on Microsoft's actions) that they see the key to this as using Nuclear. In a pioneering move, Microsoft signed a deal with Helion Energy (a Sam Altman portfolio company) to receive nuclear fusion-powered electricity within five years​​.
Additionally, Microsoft has signed a partnership with Virginia-based nuclear plant operator Constellation Energy to bring nuclear power to their data centers, demonstrating Microsoft's commitment to reducing its carbon footprint and innovating within the energy sector​​. As an example in this partnership, a data center in Boydton, Virginia, will have up to 35 percent of its power supplied by nuclear energy.
This strategy includes the adoption of small modular reactors (SMRs), which are a potential solution to the power constraints of growing data center operations. In fact, Microsoft is actively hiring experts in nuclear technology to implement a global SMR and microreactor energy strategy to support both Microsoft's Cloud and AI energy needs.
The effects of making this switch are big. Nuclear power is seen as only 50-70% of the cost of coal power (already seen as one of the cheapest sources of electricity currently). It takes a lot of capital upfront to build a nuclear power plant (whether it's an SMR or a full power plant) but for Microsoft the savings could be worth billions of dollars for their datacenters. This is a cost savings and moat that is hard to replicate without large quantities of capital.
What Should We Value Microsoft's OpenAI Stake At?
What is the Current Equity Value?
While quantifying Microsoft's stake in OpenAI is complex, it's clear that it's a significant growth driver. Rumors are that OpenAI is looking to close a new round at an $80 billion valuation. This would value Microsoft's current 49% stake at $39.2 billion. While there will be some dilution I imagine in this round, Microsoft's stake at a $80 billion post-money valuation will still be worth around $40 billion. For reference, Microsoft does not appear to put this stake as an asset anywhere on their balance sheet (3Q 10Q). For reference, they have $11.4 billion in long-term "equity investments" on their balance sheet, but this likely does not take into account the fair value of their OpenAI stake. Open AI was last valued at $29 billion, and a 49% stake of this does not appear to be on the Microsoft balance sheet.
In fact, they only mention the word "OpenAI" just twice in their most recent 10Q. In both cases, the references were minor, both cases being listed in the risk sections.
What Is the Market Potential?
In addition, the new GPTs released this last week are a game changer. These GPTs will act like Apps on an iPhone with the GPT app store having enormous potential.
For reference, Apple's App Store enables over $1.1 trillion in purchases annually. And while the company has been trying to charge 30% for in-app purchases, a large part of the App Store-enabled revenue is ads sold in app (which I cannot find any records that Apple is able to capture this revenue).
For GPTs, however, they will be able to capture a slice of all revenue since all GPT apps will be hosted inside the ChatGPT window (meaning ad revenue hosted elsewhere for Apple will run through a GPT if it supports ads). If OpenAI's GPT store can achieve ~½ of the Apple app store's $1.1 trillion purchasing enablement, this could unlock $500 billion in transactions. If OpenAI charged just a 10% fee on all GPT transactions (compared to 30% for Apple) this could unlock $50 billion in marginal revenue here alone. At a price to sales ratio of 10x, this could value OpenAI at $500 billion. This compares to a price to sales ratio of publicly traded peers like C3.ai (AI) 1 to 8.56 April 2025 p/s ratio, and 13.35x Dec. 2025 forward sales for Palantir (PLTR). Given this, OpenAI could be worth $500 billion in the next two years with a forward price to sales multiple of 10x on $50 billion in revenue.
While $50 billion in revenue at OpenAI sounds like crazy growth (they are running at a $1.3 billion revenue run rate for 2023), their growth rate has been exponential. In the last 12 months, their revenue grew by 4543% alone. This was before Office 365 Co-Pilot rolled out (large enterprise billings) or the GPT store was launched (big transaction volume opportunity).
Applying a Price to Book Multiple
AI growth (and adoption) is a growth rate that is especially unique. It is super hard to monetize but it appears that OpenAI and Microsoft have figured it out. Given they have figured this out this should have massive incremental effects on Microsoft's valuation.
For reference, Microsoft (along with its cloud peers Google and Amazon) trades at a rich price to book ratio.
If Microsoft (after dilution on this most recent rumored funding round) owned just 40% of OpenAI, this would imply an equity investment valuation of $200 billion increasing the book valuation of Microsoft by $200 billion.
If we price this at the lowest price to book ratio of the three big cloud firms (Google at 5.43x forward price to book), we are looking at an incremental valuation adjustment of $1.086 Trillion, representing ~39% upside from the current market cap of ~$2.75 Trillion today. Keep in mind this is around ½ the price to book ratio that Microsoft currently trades at.
This valuation bump does not include the incremental revenue Microsoft will make itself from more Office 365 Co-Pilot sales, more cloud revenue on Azure from more enterprise customers using their cloud to run OpenAI models (hint: AI models in the cloud are super expensive to run -this will almost definitely increase cloud spend at any firm that adds AI to their cloud deployment), or the additional cloud spend OpenAI will have itself to run its GPT4 (and later) models. All of these will likely be massive profitability boosts for Microsoft. This also does not count the savings they will soon have by running their data centers on lower cost power, thanks (in part) to Sam Altman's Nuclear Fission investment portfolio company Helion.
This is simply an argument for an increase in Microsoft stock just based on the increase of their book valuation from revaluing their stock in OpenAI.
Why We Should Value their Stake in OpenAI on More Than Just the Book Value of the Equity
I think the biggest piece of value that OpenAI brings to Microsoft is not the actual increase in the value of the OpenAI stock. Rather it is their ability to build enterprise-level solutions with OpenAI in an exclusive manner. Nowhere else will companies be able to build with OpenAI in the way Microsoft can. With OpenAI continuing to lead the field in AI development, this represents a key moat in the Microsoft business model.
Risks To the Thesis
Despite the promising outlook, investors must remain cautious of the inherent risks. In order for Microsoft (and OpenAI) to capture this level of value from the AI parabolic growth we have been seeing, management will have to continue to execute. This means pulling off some of the fastest enterprise software or platform growth ever seen (repeatedly), along with re-engineering a new power supply to run many of their data centers that will power OpenAI's ChatGPT/API system at a much more affordable cost.
This will clearly not be easy and definitely is full of risks. But it's Microsoft's balance sheet that I believe will allow them to beat the odds here and deliver an exceptional competitive moat in enterprise AI & Cloud. The costs to finance better nuclear power for data centers, OpenAI, competitive cloud offerings with Azure and more are already in the $10s of billions when you factor in Microsoft's publicly disclosed investments in nuclear energy and OpenAI. But on paper, the unit economics math likely works, just only at a scale that Microsoft (and just a few others) can play at. Given their edge with OpenAI, however, they may be the only ones that are capable of evolving cloud computing with AI in such a powerful way.
Why I Think This is Not Priced In
Many investors have been questioning how Microsoft will be able to monetize its AI capabilities. Part of their argument is that AI models are expensive to run and train. This could drag on Microsoft profitability.
While I think these concerns are legitimate (and reflected in the stock). I think some of the upside around AI in Microsoft is ironically not. Microsoft looks to be on track to significantly cut energy spending for cloud computing over the next 10 years using new energy resources like nuclear, therefore lowering the cost of running AI models. In addition, more end consumer applications of OpenAI's models (like Office 365 Co-Pilot I mentioned before) will likely help the cost curves. Both of these improvements (both in costs and in sales) have not been fully incorporated yet.
Big Takeaway
For investors seeking a robust and forward-thinking company, Microsoft presents an attractive proposition. Its alliance with OpenAI, backed by a groundbreaking move into nuclear energy for powering AI-driven solutions, sets the stage for a sustainable and innovative future in cloud computing and AI services. This strategy is not only expected to solidify Azure's market dominance but also redefine the paradigms of energy consumption and environmental responsibility in the tech industry.
For investors, Microsoft represents a company with a solid strategy for growth, leveraging the power of AI and taking bold steps in sustainable energy. This company has a large upside potential just by considering the future valuation that can be attached to it just from OpenAI. The added bonus of Azure cloud revenue, lower energy costs due to nuclear, and additional business are all a bonus in this scenario.
Its commitment to integrating cutting-edge AI with a nuclear energy strategy for its cloud computing infrastructure sets a new industry standard and offers a promising investment opportunity for the future.