Members of Congress affiliated with the Democratic Socialists of America (DSA) did not condemn the violent anti-Israel protest that targeted their party's headquarters in Washington, D.C., this week.
Offices of Reps. Rashida Tlaib, Democrat of Michigan; Alexandria Ocasio-Cortez, D.N.Y.; Greg Casar, Democrat of Texas; Cori Bush, Democrat of Missouri, did not respond to Fox News Digital's multiple requests for comment regarding the violence that erupted on Wednesday when pro-Palestinian demonstrators demanding a ceasefire in the war between Israel and Hamas rioted outside the Democratic National Committee. DNC).
None of them have issued a public statement addressing the violence, other than… Bush shares statement on X From the left-wing IfNotNow movement criticizing House Speaker Mike Johnson for criticizing the protest.
Republicans blast pro-Palestinian protests at DNC: 'Nation's capital under siege'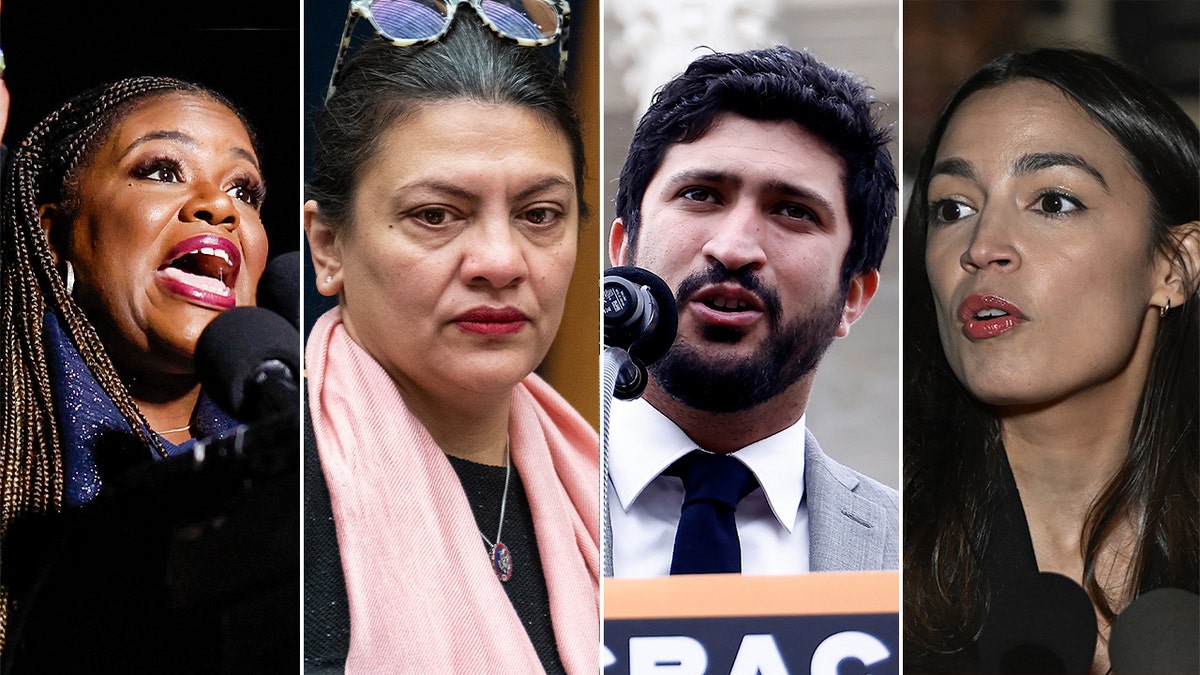 The United States Capitol Police (USCP) responded to what it said were 150 people "unlawfully and violently protesting" near the Democratic National Committee headquarters building in the Capitol Hill neighborhood. The ensuing clash resulted in the injury of several police officers and demonstrators and led to the evacuation of several Democratic members of Congress and candidates who were attending a reception inside the building at the time.
The USCP confirmed to X that six officers were injured during the melee, which included injuries ranging from minor cuts to pepper spray burns and punches from protesters.
Rep. Debbie Dingell, D-Mich., who was inside the Democratic National Committee during the protest, told Fox that the violence "shaken" her more than the Capitol riot on January 6, 2021, while Rep. Brad Sherman, D-Calif., who was Also at home, many anti-Israel protesters are being "tricked" into supporting Hamas terrorism.
Democratic Congressman Calls Out Violent Anti-Israel Protesters, Says Some Have Been 'Deceived'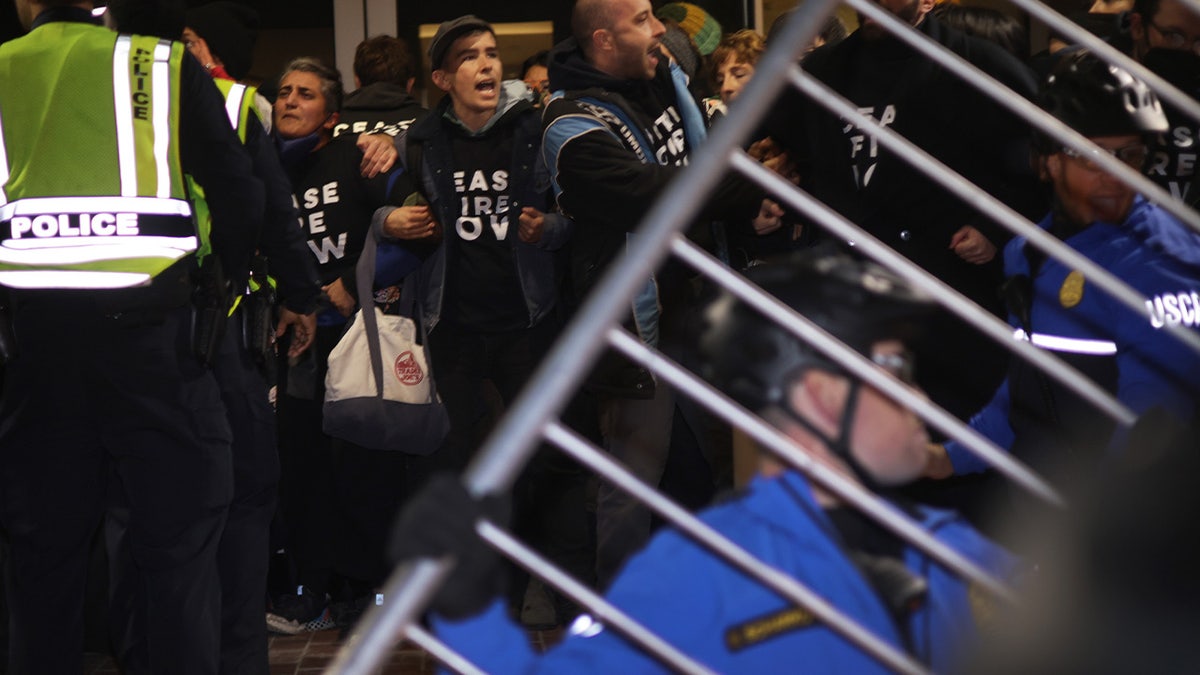 The refusal of Tlaib, Ocasio-Cortez, Cazar and Bush to condemn the violence comes just weeks after DSA was criticized as "morally bankrupt" over its response to the October 7 Hamas attack on Israel that killed more than 1,300 Israelis. , including children and infants.
DSA founding member Maurice Esserman, who issued the criticism, announced in October that he was leaving the organization.
"I left to protest the politically and morally bankrupt response of the DSA leadership to the horrific October 7 Hamas massacre of Jews that claimed the lives of 1,400 people, most of them civilians, and saw more than 200 hostages transferred to Gaza, both sets of victims including children and infants." ," he wrote in an article published in The Nation under the headline "Why I Just Left DSA."
SPLC silent on whether BLM or DEM socialist pro-Hamas activity raises 'hate' concerns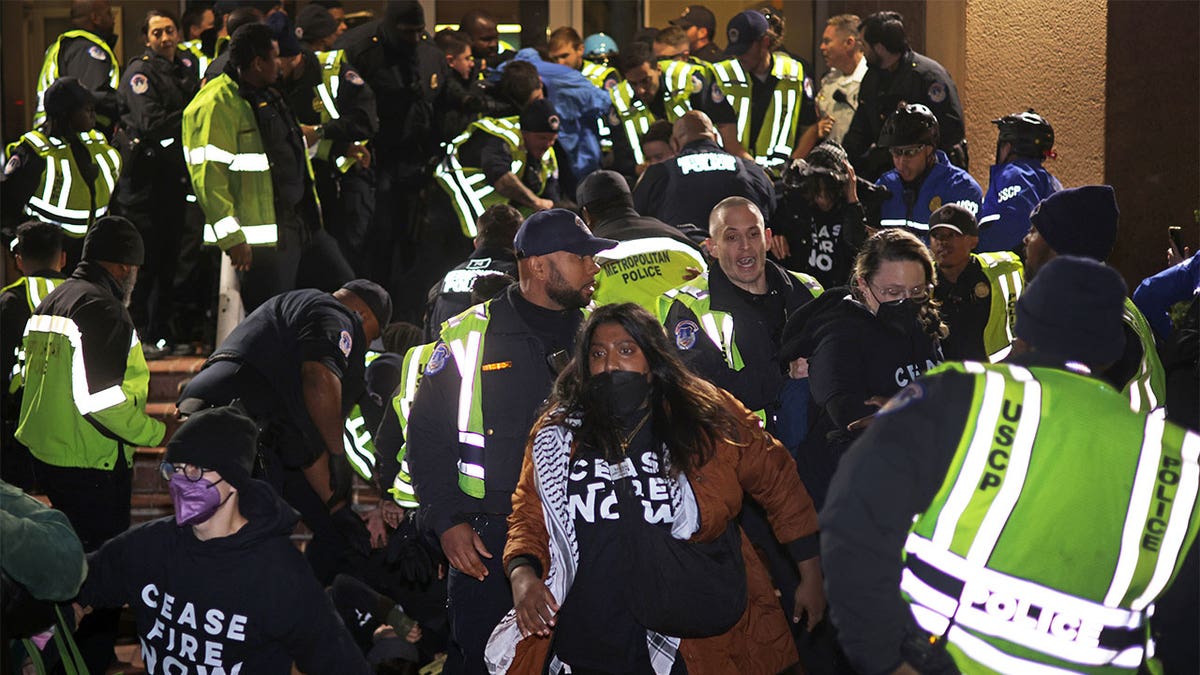 Rep. Shri Thanedar, D-Mich., announced just two weeks ago that he would renounce his DSA membership over the group's support for a "hate-filled, anti-Semitic" march in New York City in the wake of the Hamas attack.
CLICK HERE TO GET THE FOX NEWS APP
"After the brutal terrorist attacks on Israel, which included indiscriminate killing, rape and kidnapping of innocent men, women and children, I can no longer associate with an organization that is unwilling to combat terrorism in all its forms," Tanedar said on X. .
Fox News' Sarah Rumpf Whitten, Adam Sabes, Kelly Kramer and Michael Ruiz contributed to this report.