Dozens of religious and educational organizations are urging UCLA to reject a proposed ethnic studies admissions requirement in light of the College Board's influential defense of the October 7 massacre by Hamas.
"The UCLA ethnic studies faculty has taken off its mask and shown that it is completely sympathetic to the anti-Zionist, pro-Hamas cause," said Tammy Rossman Benjamin, director of the AMCHA Initiative, which tracks anti-Semitism. In universities.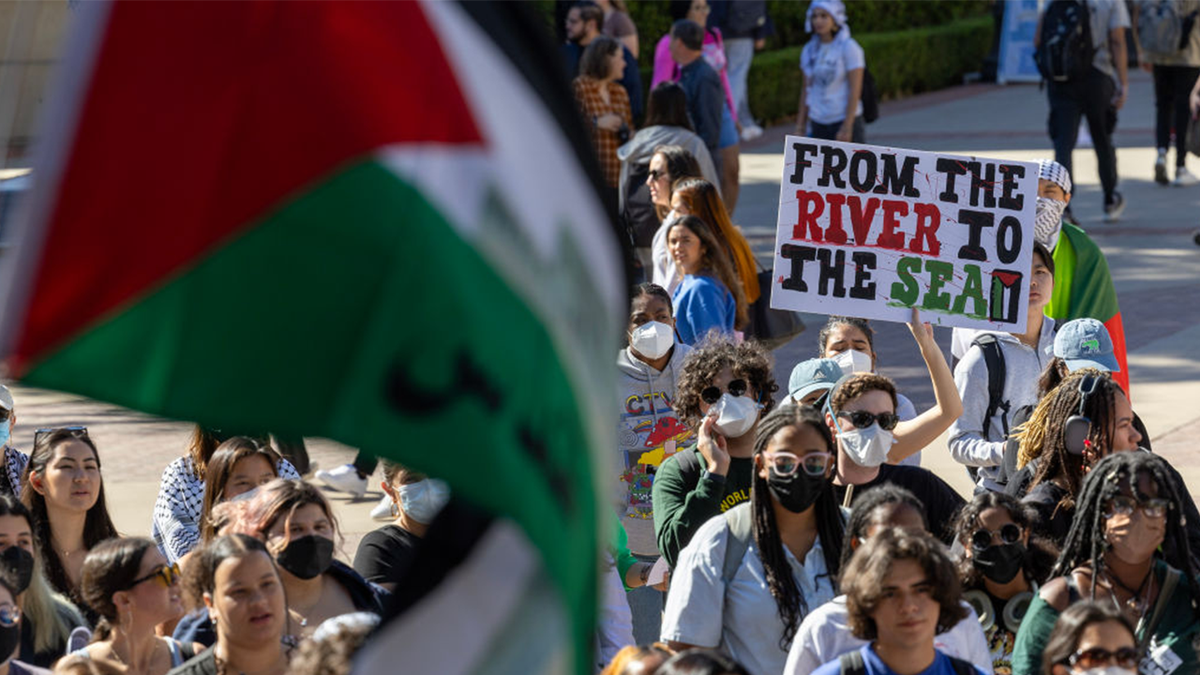 The blue state is suspending basic skills graduation requirements again, citing harm to students of color
The debate is two-fold, focusing on an ethnic studies mandate in the state's high schools and a separate proposal to make completion of an ethnic studies course a requirement for admission to UCLA. The latter faces renewed opposition after one of the main groups defending this demand wrote a letter asking UC administrators to stop referring to the Hamas attack on Israel as "terrorism."
"Through ethnic studies, what we are seeing is the institutionalization of anti-Semitism," said Brandi Shufutinsky of the Constructive Ethnic Studies Alliance, which opposes narrow and "extremist" ideological agendas in education.
In 2021, Governor Gavin Newsom signed a bill making California the first state to require all students to complete an ethnic studies course in order to graduate. The bill came after a long debate over the model curriculum, early drafts of which AMCHA and other Jewish groups said contained anti-Semitic material.
The requirement goes into effect with the graduation of the Class of 2030, although schools must begin offering the classes by the 2025-26 school year.
But in 2020, while lawmakers were wrangling over state jurisdiction, the UC Senate Board of Admissions and Relations with Schools (BOARS) began considering a proposal to add ethnic studies as an "H" requirement for admission to UC colleges. Currently, all high school applicants must meet what are known as AG subject requirements, including history, English, mathematics, science and arts.
A UC mandate would effectively usurp state law, which gives each school district the freedom to decide what to include in ethnic studies courses, according to Rossman Benjamin.
"Institutionalizing Anti-Semitism": Hear more from Brandi Shufutinsky:
Watch more FOX NEWS digital originals here
If approved, she said, it would push every public and private high school in the state to require not just an ethnic studies class, but one that "meets the standards of UCLA's College of Ethnic Studies."
Otherwise, students will not be eligible to apply to UC schools, nor to California State University, which have the same course requirements, EdSource reported.
The UCLA College of Ethnic Studies Council has been instrumental in formulating and advocating for admission requirements. Drafts of the course standards focused heavily on "anti-racist and anti-colonial liberation."
The board recently renewed BOARS's call for approval of this requirement, noting that ethnic studies scholars have revised the course standards five times "in response to input from non-expert stakeholders."
Fox News reached out to several members of the College of Ethnic Studies Council leadership requesting an interview or comment, but did not receive a response addressing the proposed admission requirements.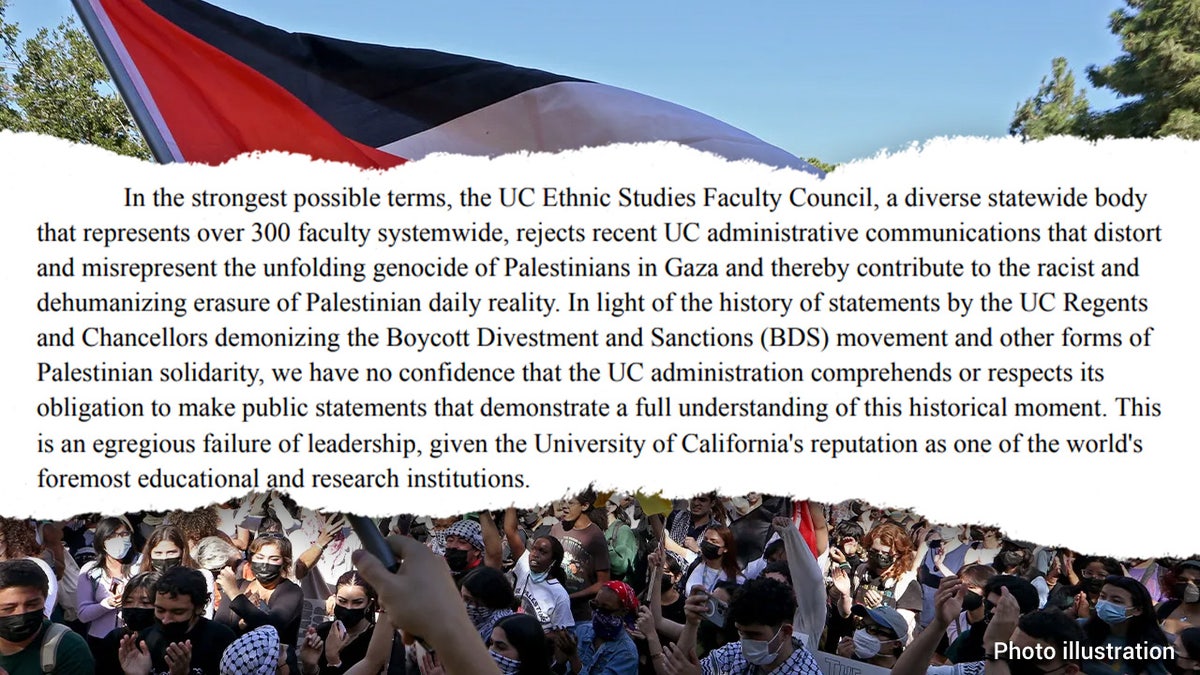 "Alternatives" to Hamas: The university vice president criticizes a "horrific" letter from the Faculty of Ethnic Studies
The council defended the October 7 Hamas attack — which killed about 1,200 people, most of them Israeli civilians — as the actions of "a society trying to free itself from decades-long ethnic cleansing and genocide."
"We call on UCLA's administrative leadership to retract its accusations of terrorism, advance the struggle for Palestinian freedom, and stand against Israel's war crimes against the Palestinian people, ethnic cleansing, and genocide," the council wrote last month.
Shufutinsky, an education consultant for the Constructive Ethnic Studies Alliance, said she was shocked that the board "felt so comfortable saying the quiet part out loud."
"But it's also helpful because now we're fully aware of exactly where they stand and why we have to stand against the proposals they're making," she told Fox News.
AMCHA and more than 100 other religious, educational, and civil rights organizations signed a letter urging UC leadership to "immediately reject" Condition H, arguing that "faculty who cannot acknowledge that the Hamas massacre is terrorism…ethnic studies standards on State level for California students."
Rossman-Benjamin said she believes the proposal is "dead in the water" now.
She added: "It goes without saying: This will not happen. This cannot happen. This is infuriating." "The people who created this proposal have shown themselves to be fanatical, unacademic, unscientific, politically motivated activists who will harm our children and our communities."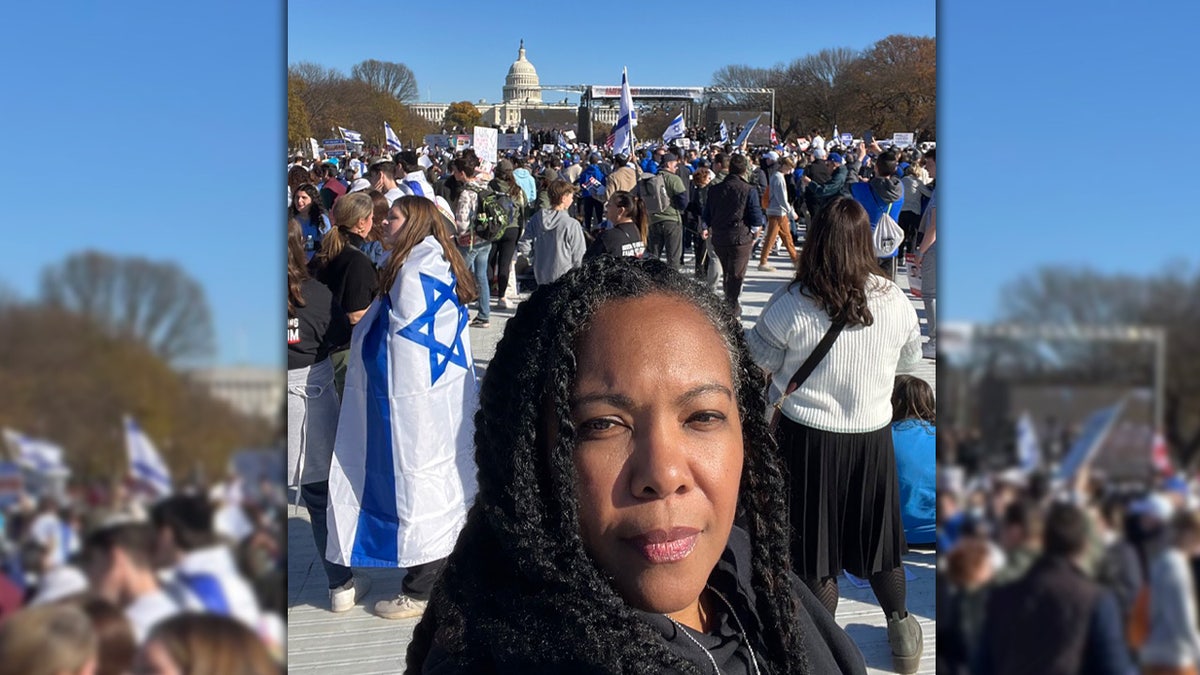 Israeli actress demands FBI investigate funding college groups "brainwash" American students
Shufutinsky said the discipline of ethnic studies adopted a strict dualism that often portrayed Jews as white and therefore oppressed.
"There's this whole idea that we've seen, unfortunately, since October 7, that anything an oppressed group of people does to a so-called oppressed group of people is legitimate and acceptable," she said.
But the College Board argues that critics are trying to suppress the teaching of "hard truths" about "settler colonialism, segregation and resistance."
We now fully understand exactly where they stand and why we should stand against the proposals they are making

-Brandi Shufutinsky, Alliance for Constructive Ethnic Studies
In September, the board wrote to Newsom and California Superintendent of Public Instruction Tony Thurmond, objecting to the "guardrails" written into the high school mandate. Specifically, the board opposes a ban on promoting "bias, bigotry, or discrimination against any person or group of persons on the basis of any class protected under Section 220" of the state education law.
"This security barrier has been used as a weapon by pro-Israel groups to enact anti-Arab and anti-Palestinian censorship," the council wrote. "We do not believe the state of California should restrict or censor teachers when it comes to teaching ethnic studies — or any other subject."
CLICK HERE TO GET THE FOX NEWS APP
The state's largest school district, Los Angeles Unified, has already implemented an ethnic studies requirement for the graduating class of 2027, as freshmen this year.
To hear more from Shufutinsky, click here.
Isabel McDonnell contributed to the accompanying video.