Welcome to the Fox News Politics newsletter with the latest political news from Washington, D.C. and updates from 2024 election campaign trail.
Sign up now to get the Fox News Politics newsletter in your inbox.
What is happening:
– The House of Representatives is preparing to vote on A Spending package To finance the government during the holiday season..
-Biden The administrative personnel revolution Because of the president's calls for a ceasefire..
– RFK Receives approvals From three all-star athletes…
UFC is in commission
Congress faces a lot of political battles, but Tuesday saw several incidents that almost led to actual battles.
Oklahoma State Senator Markwayne Mullen nearly got into a physical altercation with Teamster President Sean O'Brien at a Health, Education, and Labor Committee hearing.
"Sir, this is a time, this is a place, if you want to talk, we can be consenting adults, and we can end it here," Mullen told O'Brien after reading a tweet in which O'Brien said he could handle the matter. Senator "Anytime" or "Anywhere".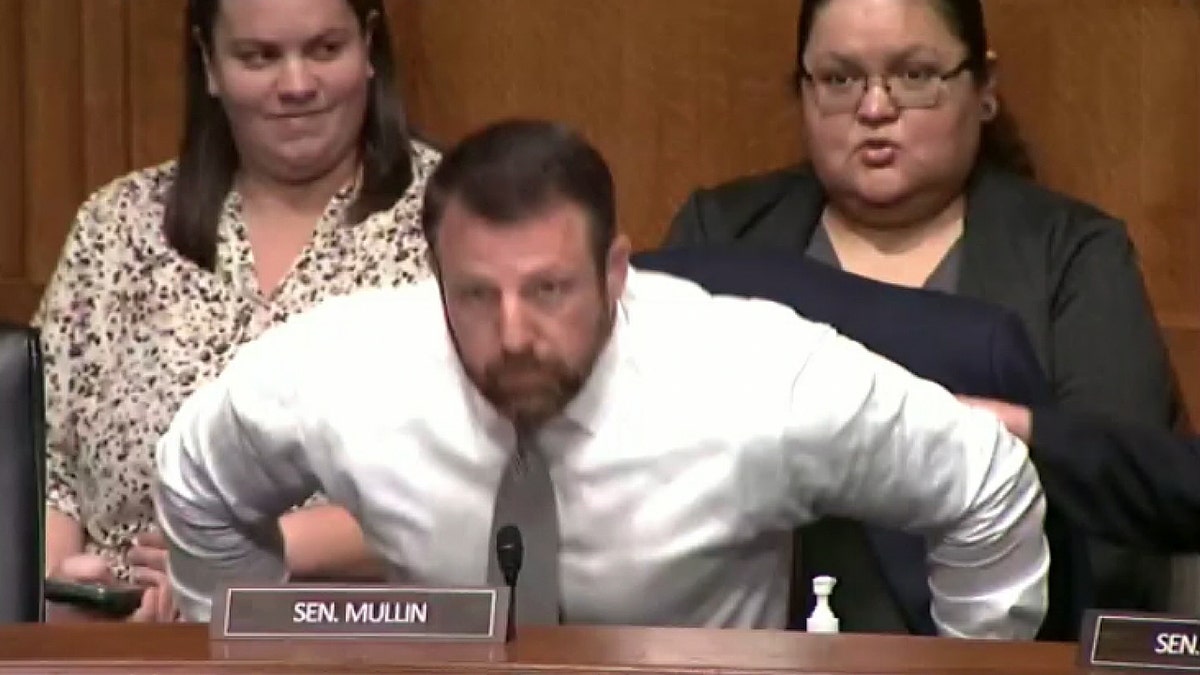 "I'd like to do it now," O'Brien said, prompting Mullen to say: "Okay, stand your ass up then."
"Stand your ass up, big guy," O'Brien said. Mullen, a former mixed martial arts fighter, then rose from his chair and appeared ready to confront the union president before committee chairman Bernie Sanders told the pair to get the matter out of the way.
'Cheap trick': On the other side of Capitol Hill, former Speaker McCarthy was accused of elbowing a Republican who helped oust him. …Read more
Chaos on Capitol Hill
Closing looms: Republicans are talking with Democrats to gauge where the votes might lie to pass the spending bill and avoid a shutdown …Read more
Blocked: The attempt to impeach Mayorkas stalled with eight Republicans joining Democrats in opposition …Read more
Johnson's first test: The House of Representatives is preparing to vote on its new president's plan to avoid a government shutdown …Read more
"We need bold change": House Freedom Caucus swings against Johnson's plan to avoid a shutdown …Read more
'He must be held accountable': These eight Republicans joined with Democrats to kill the impeachment of Mallorca …Read more
"Important questions": Turner and Stefanik called for a Department of Justice investigation into Michael Cohen after his recent testimony …Read more
"Reasserting authority": Freedom Caucus head shares warning for Johnson as Republicans rebel against CR …Read more
White House
'What is the problem?': A distraught American mother on unjust execution in China calls on Biden to confront Xi …Read more
"I will not comment": The White House refuses to say it will support cooperation in the subpoena investigation into classified Biden documents …Read more
Cleaning the dictator: WH dismisses the question about the city's sudden transformation blue …Read more
Opposition message: Biden officials rebel against the president over the war between Israel and Hamas …Read more
Fermentation problem: Biden supports 'decent-paying job' for 'ordinary citizen of China'; We will not surrender American trade secrets …Read more
Unsolved mystery: A photo of the mysterious White House cocaine has emerged …Read more
Tales from the campaign trail
Time is almost up: The GOP presidential field continues to shrink, but Trump still leads the pack …Read more
California dream: Vulnerable Democrats attended a Hollywood fundraiser with donors linked to corruption and discrimination scandals …Read more
Triple threat: NFL Hall of Famer, mountain biking champion, NBA legend endorses RFK Jr. for president …Read more
What then?
ticking clock: Kansas Senator calls on Senate Democrats to pass Israel funding bill …Read more
Payment: A Georgia man who threatened to kill Marjorie Taylor Greene and her staff is now facing federal charges …Read more
Other record: Migrant encounters broke their pre-October highs …Read more
Get the latest updates from the 2024 campaign trail, exclusive interviews, and more FoxNews.com.