FBI Director Christopher Wray He said Wednesday that the number of illegal immigrants evading Border Patrol agents and fleeing into the country is of "major concern" to the agency — as he told lawmakers that threats from across the border are "consuming" the FBI's domain. Offices.
Testifying before lawmakers on the House Homeland Security Committee about "global threats" to U.S. President Mark Green, Wray asked about the numbers of fugitives — illegal immigrants at the border who evade Border Patrol — which topped 600,000 in FY23, Customs sources said. Border Protection (CBP) told Fox News that there have been more than 47,000 escapes since the start of the new fiscal year on October 1.
Green said the number of people who have fled since the beginning of the Biden administration may exceed two million.
White House President Green to warn US in 'one of the most dangerous times' in history during threat hearing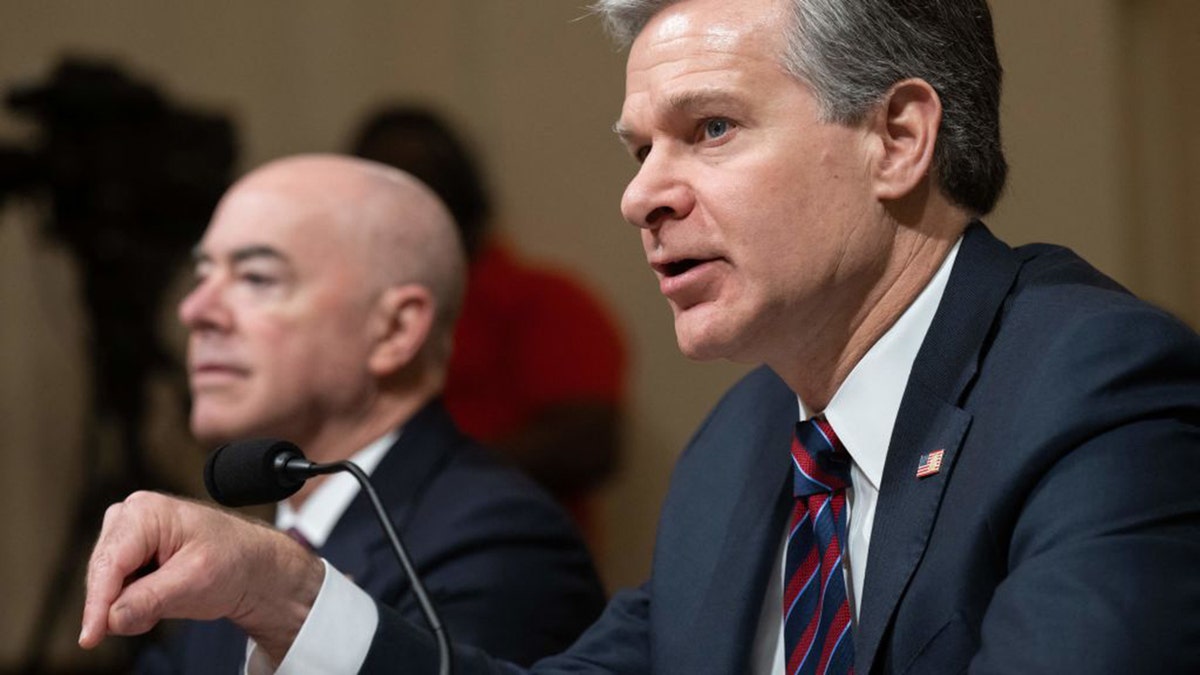 "Can the FBI assure the American people that known or suspected terrorists, including any from Hamas or other terrorist groups, are not among these fugitives?" Asked.
"Well, certainly the group of people you're talking about is of great concern to us. That's why we're aggressively using all 56 of our combined counterterrorism forces," Wray said.
He later said that "anytime you have a group of people in the United States that we don't know nearly enough about, that's a concern for us from the standpoint of our path to protecting Americans."
He testified that there has been an increase in the number of known or suspected terrorists trying to cross the border in the past five years – with the number of those encountered on the terrorism watch list reaching record numbers in FY23.
He said he couldn't talk about why that was, but added, "I can understand that the threats that come from across the border are pretty much consuming all of our 56 field offices, not just in the border states."
FBI Director Wray warns of terror threat to Americans on 'a whole other level' amid conflict between Hamas and Israel
The testimony comes amid renewed concern, especially from Republicans but also from within the Biden administration, about the possibility of terrorists using the border to reach the United States, especially as Border Patrol agents deal with record numbers of migrants.
There were more than 249,000 migrant encounters in October alone, following a record-breaking FY23 for migrant encounters. Republicans have blamed the Biden administration for its policies, while the administration says it needs immigration reform and more funding to address a "broken" immigration system.
These concerns about terrorism were renewed in the wake of the terrorist attack launched by Hamas on Israel. Green told Fox News Digital on Tuesday that the United States is at "increased danger," and said an "open door policy" at the border is largely to blame.
Wray had earlier told Senate lawmakers that the threat of a terrorist attack against Americans had been raised to "a whole other level" because of the ongoing conflict in the Middle East. He said the most pressing concern includes domestic violent extremists who are inspired by foreign terrorist organizations, or domestic violent extremists who target Muslim or Jewish targets.
CLICK HERE TO GET THE FOX NEWS APP
a Customs and Border Protection memorandum The agency has warned that fighters from Hamas, Hezbollah and other groups may seek to enter the United States, although the agency said last month that they had no indication that fighters were trying to enter the United States.
"You have seen no indication that foreign fighters directed by Hamas are seeking entry into the United States," a CBP spokesperson said at the time.
The Department of Homeland Security The FY24 threat assessment warned that agents encountered an increasing number of watchlists and warned that "terrorists and criminal actors may exploit the increased flow and increasingly complex security environment to enter the United States."
The assessment also stated that "individuals with ties to terrorism are interested in using existing travel routes and permitted environments to facilitate access to the United States."
However, the agency also stressed that it works "tirelessly to screen, screen and prevent anyone who poses a threat from entering the country" and that encounters with known or suspected terrorists are rare – with encounters on the watch list also including those linked to known or suspected terrorists. Suspected terrorists, including their relatives.
"Our border security efforts include biometric and resume screening and verification," a Department of Homeland Security official said. "CBP screens every individual encountered, and if an individual is determined to pose a potential threat to national security or public safety, in coordination with the Joint Terrorism Task Force (JTTF), we either refuse to accept, detain, remove, or refer the individual." To other federal agencies for further examination and prosecution as appropriate."
Fox News Channel's Aubrey Spady and Griff Jenkins contributed to this report.